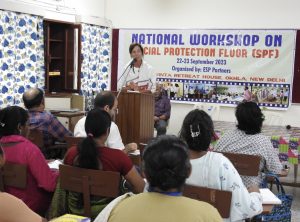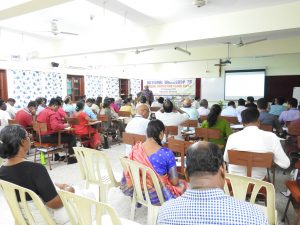 National Workshop on Social Protection Floor
Social protection doesn't just provide social and economic security for people who are at risk of poverty but also guarantees income security when some or all sources of income are disrupted or terminated. Social Protection Floor is the recommendation of the International Labour Organization to the United Nation. The term "social protection floor" ideally means a set of basic social rights, services and facilities that the end beneficiaries should enjoy. The term "social floor" can align to the existing perception of "primary/fundamental obligations", to ensure the realization of human rights at every level which has been embodied in the Constitution.
Lok Manch organized a National Workshop on Social Protection Floor on 22nd-23rd September 2023, with the objective to find out gaps in order to initiate campaigns at the operational area of our interventions. Participants from all 15 states and other civil society actors showcased active participation and spread some light on state analysis of the implemented schemes, budgetary allocations, existing provisions and legislations.